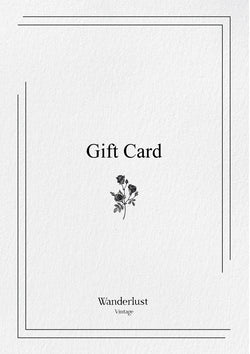 Wanderlust Vintage Gift Card
The perfect gift for the ones you adore and love vintage.
Give the gift of vintage!
To keep it eco-friendly, we are editing a paperless gift card. Once you purchase a Gift card, you will be e-mailed an automatically generated code for the amount you have purchased.

Please, forward the email with to code to your intended recipient. Your gift card recipient can enter at checkout to subtract the gift card value from their order total.
The Gift Card will expire within two years of purchase.